The Hotel Andaluz
announces the celebration of 75 years of business with a special package called the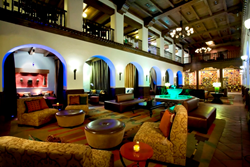 Diamond Jubilee.
The package includes $75 off of select rooms, free parking and a ticket for two Diamond-tinis, premium vodka martinis sparkling with large "diamonds"—or, the current drink of the month; the package is available now through the month of June.
Monthly, themed events will commemorate the property to honor each decade the hotel has been open and a Diamond Jubilee Celebration will take place June 6, 2014, prior to the actual anniversary date of June 9, 2014. The diamond anniversary is appropriate given the hotel's status as downtown Albuquerque's only AAA Four Diamond property.
"We invite everyone to help celebrate this historic milestone," said John O'Hara, "Join us this June to honor 75 years of fine hospitality in the Land of Enchantment."
Constructed in 1939 by Conrad Hilton and opened as a Hilton hotel, one of only four in the country at that time, the building was the first in NM to have air conditioning and an elevator. Adding to the hotel's glamour factor were guests such as Elizabeth Taylor, Nicky Hilton and Zsa Zsa Gabor. The property was purchased in 2005 by local real estate investor and designer Gary Goodman who spent $30 million refurbishing it to its current Andalusian-themed glory. With care to restore old murals, fixtures and the elevators, the property's 107 rooms were also outfitted with "smart technology," which turns on or off heat, AC and lighting if guests enter or leave the room. 70 solar panels on the hotel's roof heat 60% of the hotel's water, and extensive recycling is standard for the property. It is one of only two hotels in the country that is both on the Historic Registry and has a Gold LEED Certification.
Hotel Andaluz also boasts a new restaurant on site, MÁS Tapas y Vino, led by Chef James Campbell Caruso (nominated 8 times for the James Beard award, Best Chef of the Southwest), who is known for his culinary treasures La Boca and Taberna in Santa Fe. Additionally, the hotel has outdoor dining and cocktails in the upper level bar, Ibiza.
Package is based on availability. To make a reservation, call: 877 987 9090
Tweet
Save hours on your travel research. Get brochures delivered to your door for free. Digital option too.