CRUISE THE MEDITERRANEAN AND PRE-PAY IN AUD
NO HIDDEN FEES, ALL INCLUSIVE WITH CLUB MED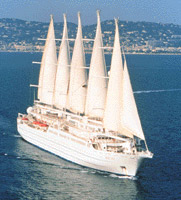 May 18, 2009: Cruising the Mediterranean Sea would have to be high on every Australian's wish-list, and it is the fastest growing segment of the hospitality industry, but the hidden tipping and port charges, high costs for drinks and activities, and airfares to get to the port or departure, causes many to opt for closer Pacific and well worn routes.
Not any more – Club Med 2 launches 09 northern summer packages with fares for example, from $4972 per person (based on twin share C Deck Cabin for 7 nights ALL INCLUSIVE cruise from 23rd July - 30th July cruising from Brindisi in Italy to Corfu in Greece, (with 4 days in different ports of call in Croatia.)
The fare includes luxury on board accommodation in a newly refurbished cabin, three daily on board gourmet buffet meals, wine and beer & soft drinks with lunch and dinner and open bar, sports activities, and on board games included in one the one inclusive price – paid up front – in Aussie dollars.
Yes, times may be tough, but now escaping from them isn't, or too expensive!
Embark on a journey away from the commonplace or well-known, on board the majestic sailing ship Club Med 2 – this floating village has just been recently upgraded, and is backed by the worldwide specialist in all-inclusive, upscale, friendly and multicultural holidays for nearly 60 years – Club Med.
During the refurbishment earlier this year, and inspired by stories of deep-sea explorers, their epic journeys and the majestic vessels they sailed on, respected interior designer Sophie Jacqmin, reworked the five masted ship by creating an elegant and poetic atmosphere, in all cabins, suites and public areas of the ship
So run away to sea and experience a truly extraordinary life on board Club Med 2. In the European winter season, Club Med 2 sails itineraries around the Caribbean.
Sailings in summer 09 are visiting such exotic ports as Nice, St Tropez, Portofino, Cannes, Malaga, Lisbon, Sorrento, Tripoli, Corfu, Barcelona, ports in Malta and the Greek Islands.
To learn more about Club Med 2 or to book please call Club Med on 1800 258 263 or visit
www.clubmed.com.au
or contact your friendly Travel Agent.