Shang Palace at Shangri-La Hotel, Singapore will hold patrons spellbound with a prized ingredient: black garlic.
Master Chef Steven Ng has created special dishes to capitalise on the distinctive flavour and aroma of black garlic. Promotional dishes are available in à la carte and set menus from 1 to 31 March 2014. Prices start from $12.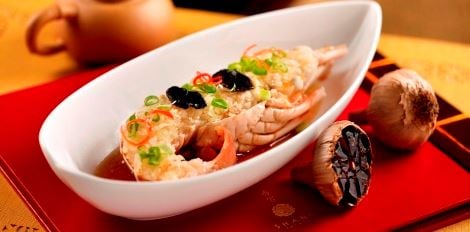 Guests can savour the concentrated, sweet and smoky flavours of the prized garlic, believed to possess twice as much antioxidant as white garlic. Black garlic has garnered endorsements from television programmes and celebrities, including Oprah Winfrey, who lauded it as the superfood of 2012.
Master Chef Steven Ng pairs the prized black garlic with familiar ingredients like kampong chicken and premium seafood, such as lobster, scallop and fresh abalone. The nourishing Braised Lobster, Prawn, Black Garlic and Leek Thick Soup is a comforting dish for the belly. Fans of the crustacean will not wish to give Steamed Lobster with Black Garlic Sauce a miss. Chef Steven gives the usual rice staple a twist with Fragrant Fried Rice, Scallop, Black Garlic and Salted Egg Yolk. They can end the meal on a sweet note with Almond Pudding enhanced with a hint of black garlic.
The Black Garlic six-course set menu is priced at $118 per person. À la carte dishes start from $12 per portion. Prices are subject to 10 per cent service charge prevailing government tax. For reservations, please call Dining Reservations at (65) 6213 4398 or email dining.sls@shangri-la.com. For instant online reservations, please visithttp://www.shangri la.com/singapore/shangrila/dining.
Tweet
Save hours on your travel research. Get brochures delivered to your door for free. Digital option too.