Inspired by the Mediterranean coast, The Waterfall's new Antipasti Semi-Buffet Lunch features a rotating menu of freshly baked bread, cold cuts, cheeses and salads available from Monday to Saturday, noon to 3 p.m.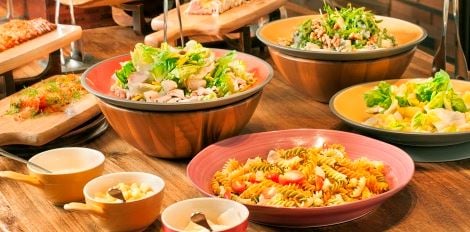 For a heartier meal, guests can design their preferred two- or three-course menu from a selection of main courses and desserts.
The central showcase overflows with antipasti bursting with Mediterranean flavours and ingredients, such as Country Pork Terrine, Rolled Zucchini Skewers with Smoked Scamorza and Stewed Baby Octopus in Sour Sauce. The surrounding buffet counters feature fresh and colourful salads, including Niçoise with Roasted Tuna and Hard-Boiled Eggs, Cold Fusilli alla Crudaiola with Capers, Cherry Tomato and Mozzarella, and Pear and Walnut with Rocket and Blue Cheese.
The menu highlights include four cold cuts (Coppa Pork Ham, Bresaola Beef Ham, Chorizo Sausage and Piccante Salami) to pair with freshly baked bread and crackers. Cheese aficionados can enjoy seven varieties daily, such as Scamorza Affumicata (smoked cow's milk cheese commonly from southern Italy) and Reblochon (a popular French cheese from the Alps region boasting a nutty flavour).
In addition to the buffet, guests can indulge further in an extensive menu comprising main courses and desserts. The options include pasta dishes like Black Ink Risotto, meat dishes like Stewed Pork Shank and popular seafood signatures like Grilled Tuna Steak in Garlic "Salmoriglio" Oil with Warm Tomato and Celery Salad. Vegetarian options are also available.
For dessert, there is a choice of the popular Dark Chocolate Mousse with Raspberry Jelly and Mint or Apple and Banana Crumble with Vanilla Ice Cream. Tart lovers will adore the pastry chef's creations, which promise to delight with seasonal and fresh surprises daily.
The Antipasti Semi-Buffet Lunch is priced at S$38 per adult. Guests can add S$10 to enjoy one main course and dessert. Prices are subject to a 10 per cent service charge and prevailing government taxes, including GST.
Tweet